Thickness:
1.2/ 1.5/ 1.8/ 2.0/ 2.5/ 3.0 mm
Length:
Customized (11.8 meter is the max for the 40'GP, 5.8 meter is the max for the 20'GP)
Purlin distance:
600-900mm
Surface finishing:
UPVC material
Color:
White, Blue, Green, Yellow, Red, Dark Green, or Customized
We are the professional manufacturer of PVC Roof Tile with more than 17+ years of experience in this industry,over 30000㎡ plant area. We focus on the research and development of the thermal insulation performance and durability of PVC plastic sheet for rooftop.
PVC polycarbonate sheet is one the hot-sale heat- insulation roofing in our product with high quality and competitive price. We exported more than 15,000,000 square meter to around the world in the past 10 years.




Features:

Heat insulation: The composite core structure of PVC plastic corrugated roof tile can reduce the thermal conductivity and improve the heat insulation performance. The thermal conductivity is 0.29w/mk, which is 1/2000 of color steel tile.

Corrosion resistance: The experiment can prove that our UPVC roofing sheet has no chemical reaction when soaking in various acid, alkali and salt solution for 24 hours. By virtue of the features of acid,alkali,corrosion resistance of the material, and combined with the unique process process recipe, it can realize the beyond of product quality.

Fireproof performance: PVC roofing sheet's Oxygen Index OI≥32, which belongs to the nonflammable material.

Weather resistance: PVC roof sheet inner and outer layer adds the ultraviolet absorb, shielding agent, antioxidant and modifier to improve the anti-aging ability of the plate. The unique directional stretching process at the surface of the PVC corrugated roof tile, adding the shielding pigment in the core layer composite structure can block the light penetration again to free the lower roof sheet from the ultraviolet ray, thus greatly extending the life of PVC roof sheet.

Environmental protection: It does not contain the asbestos, no carcinogenic substances are released
3. Product detail: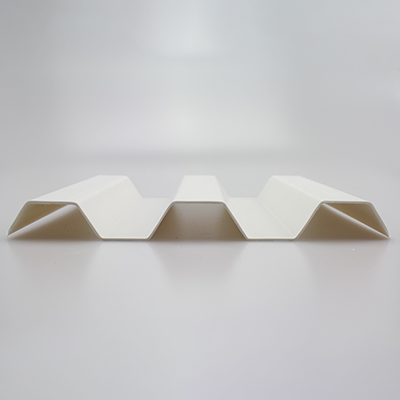 4. FAQ
What is the life guarantee of your roof tile?

1). ASA/PVC & Synthetic Resin Roof Tile 25 years.

2). APVC Roof Tile 15 years.

3). UPVC Roof Tile 10 years.
2. Does your tile roofs fireproof?
Our main raw material is PVC, it is fire retard-en material, the fireproof performance is ≥ B1 level.
3. When is your delivery time?
About 15 days for one container (20' or 40') after deposit.
4. Package
1). Nude package.
2). We can customized packing for our clients.
5. Can you give me a quotation?
Please provide the following information for quote:
1). Modal of the product
2). Width
3). Length
4). Thickness
5). Color
6). Order of quantity
7) Please provide Drawing plans