PVC Roof Tile Single Layer is rigid plastic corrugated roof sheet with prominent quality. Also slight light transmission ,PVC Roof Tile is suitable for large-scale factories and warehouses, and can achieve the effect of reducing production costs.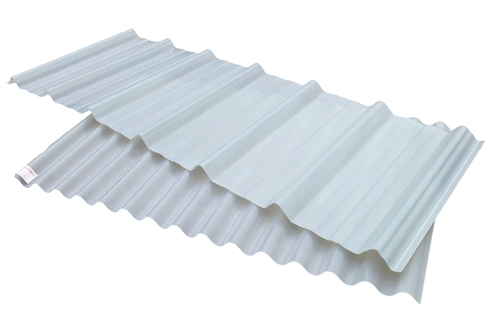 3.Product Feature And Application of the PVC plastic roof sheets
1.Corrosion resistance of acid and alkali: PVC roof tile is over three times more than the life of zinc plate.
2, Weather resistance: Anti-UV agent in the material can be really against the UV with long lifetime .
3, Fire resistance: PVC roof tile belongs to the nonflammable material .
4,Green and environment friendly: Without any asbestos and radioactive element.
5, Portability: Fast installation and easy transportation.
6, Toughness: Impact and tension resistance, hard to be fractured.
7, Insulation: PVC roof tile has excellent electrical insulation properties.
8, Heat insulation: The composite core layer structure can reduce the thermal conductivity and improve the heat insulation performance.
9, Sound insulation: PVC roof tile can effectively reduce the rain impact noise, over 30db of zinc iron roof tile in noise reduction .
10,Good using temperature: -30°C to 70 °C.
1. What is the life guarantee of your roof tile?
1). ASA/PVC & Synthetic Resin Roof Tile 25 years.
2). APVC Roof Tile 15 years.
3). UPVC Roof Tile 10 years.
2. Does your tile roofs fireproof?
Our main raw material is PVC, it is fire retard-en material, the fireproof performance is ≥ B1 level.
3. When is your delivery time?
About 15 days for one container (20' or 40') after deposit.
4. Package1). Nude package.
2). We can customized packing for our clients.
5. Can you give me a quotation?Please provide the following information for quote:
1). Modal of the product
2). Width
3). Length
4). Thickness
5). Color
6). Order of quantity
7) Please provide Drawing plans