According to a foreign news website, Inovyn's (acquired by Ineos) PVC factories in Rheinberg, Germany, failed during the production process, and the company had to announce on September 17 that the PVC products produced by the factory were force majeure. , So far, the company has not disclosed more details of the suspension.
However, according to the website, this is the seventh time a large-scale PVC force majeure event has occurred in Europe. At present, more than a quarter of the total production capacity of 8.7 million tons/year in Europe is now at a standstill. At present, it is difficult to guarantee the European production of vinyl chloride (VCM), the main raw material for PVC.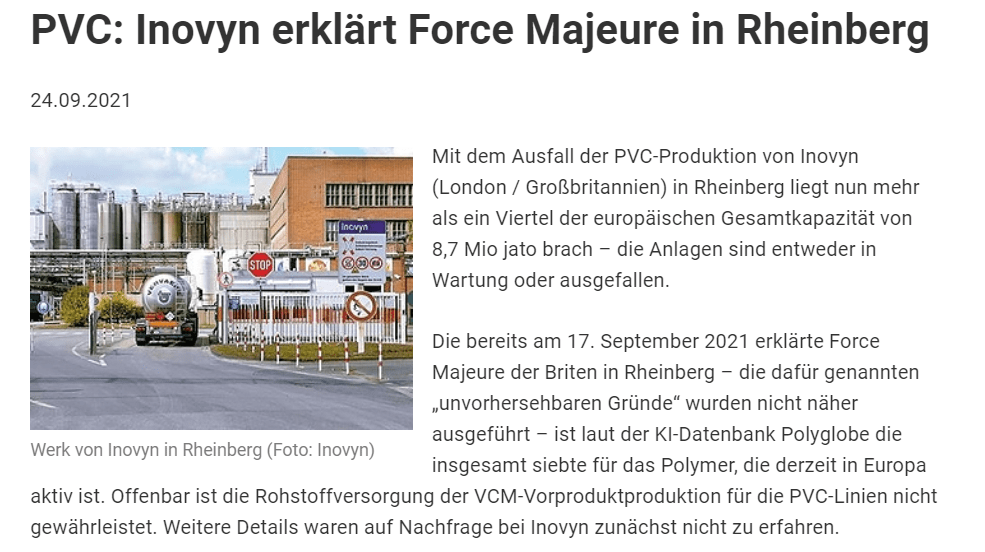 It is worth noting that in early September, KemOne (formerly Arkema), the second largest PVC supplier in Europe, stated in a letter to customers that its branch in France announced force majeure for its K70 grade PVC. In addition, due to energy shortages, the company also announced recently that it will impose a certain fee on PVC prices as a natural gas surcharge from October.
The PVC plant of Volgograd kaustik, the fourth largest PVC producer in Russia, has also started overhauling on September 20, which lasts about 20 days.
On September 23, Karpatneftekhim, one of Ukraine's largest chemical companies, said that it had to shut down the HDPE device due to technical problems. Fortunately, the company said that the shutdown will not last long. At present, the plant can produce 300,000 tons of PVC, 200,000 tons of caustic soda, 180,000 tons of chlorine, 250,000 tons of ethylene and 120,000 tons of polyethylene annually.

According to GC reports, VERSALIS, a major Italian manufacturer of ABS/PS and other products, said that it had announced on September 15 that all its ABS production had also become force majeure. This incident has brought great pressure to the already very tight European ABS supply. It is reported that the former Ineos Belgian plant has been suspended for a long time, and the European ABS market has been tight for several months. Some buyers said that it is unlikely to see European prices fall before the end of the year, and that due to shortages, prices are more likely to rise.
The company is also the largest EVA producer in Europe. In early September, the company also announced force majeure in the delivery of EVA products from the Oberhausen plant.
At present, the shortage of raw materials is not only a difficulty facing China's domestic market. With the continuous occurrence of various emergencies such as hurricanes in North America this year, shortage of natural gas supply in Europe, and repeated global epidemics, it can be foreseen. Out of stock will become the main theme of the global plastics industry in the fourth quarter!
The price of PVC raw materials is still rising. If there are customers with purchasing plans, it is recommended to arrange for implementation as soon as possible. XINGFA Tile Industy Co.,Ltd is a professional and trustworthy supplier of PVC Roof tiles, and is your strong backing.