XINGFA ASA Synthetic Resin Roof Sheet is mainly Spanish1050. The width is generally fixed. When lapped, a wave is overlapped. The length is customized according to the pitch. The length of a section is 0.219 meters. If you want to make a ten-meter-long tile, use 10/0.219=45.66 knots, and use the method of adding but not subtracting to keep the integer, that is, 46 knots. This is the number of knots required for a ten-meter resin tile. For longitudinal overlap, the total roof width divided by the effective width of the resin tile can get the number of pieces required for the horizontal overlap.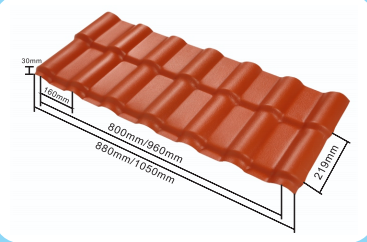 Foshan XINGFA Tile Industry CO.,Ltd is a manufacturer focusing on new type of environmentally friendly roofing building materials. Our company has an experienced R&D team, a huge factory building of 30,000 square meters, a massive inventory of 13,000 square meters, a wide range of products and complete supporting facilities. We have professional pre-sales service, free design of engineering drawings, and budget plan within 1 day; rigorous in-sale service, triple quality inspection and triple check to ensure product quality and quantity are foolproof, our own logistics team, logistics monitoring in place; intimate For after-sales service, installation videos or on-site installation instructions can be provided, and a quality guarantee certificate can be provided.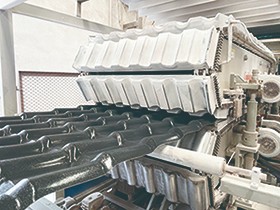 Regarding ASA Synthetic resin roof tile quantity and price, as long as you provide us with roof drawings, we will provide you with a reasonable purchase plan within 24 hours, and we can also customize products.